Sully District Council of Citizens Associations
P.O. Box 230042
Sully Station, VA 20120-0042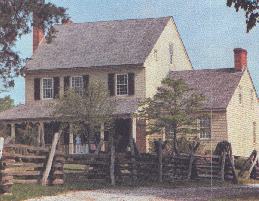 Notes from the 25 February 2019 Joint Sully District Land Use and Transportation Committee
by John Litzenberger, WFCCA Land Use Committee Chair
ATTENDANCE: We had a total of seven committee members present, plus three Planning Commissioners and Amber Lee-Leslie from Supervisor Kathy Smith's office. Several citizens came and went

CALL TO ORDER:
The meeting was called to order by John Litzenberger, WFCCA Land Use Chair, at 7:00 PM.

MEETING ANNOUNCEMENTS:


Follow us at @SullyDistrict!
For transportation and related issues, follow the Sully District Transportation Advisory Commissioner at @SullyTAC
Topic: Northern Virgina Transportation Authority - What is it and how what it does effect us? presented by Keith Jasper, Principal, Transportation Planning and Programming, Northern Virginia Transportation Authority
LAND USE AND TRANSPORTATION COMMITTEE:
7:00 -- Pomeroy case PCA C-637-05
Proposal: PRESENT ZONING: (Residential) R-1 (Industrial) I-5
REQUESTED ZONING: (Planned Residential Mixed) PRM
Location: Just over the line in Dranesville, on Frying Pan Rd
From the Staff Report:

PCA Proposal: To delete 37.20 acres from RZ C-637 to allow the property to be rezoned with RZ 2017-DR-012.
RZ/CDP Proposal: The applicant seeks approval of a RZ and CDP application on 39.42 acres to permit a rezoning from the R-1and I-5 Districts to the PRM District fora maximum of 2,011,751 gross square feet of mixed-use development at a 1.15F AR, which includes 1,573,751 square feet of multi-family and single-family attached residential uses, and 438,000 square feet of commercial use (hotel, assisted living, or ret ail).
FDP Proposal: The applicant seeks approval of an FDP application on a 21.26-acre portion of the concurrent RZ/CDP area to permit a maximum of 830,150 square feet of mixed-used development at a 0.90 FAR(inclusive of bonus density for affordable and workforce dwellings), which includes 730,150 square feet of residential uses to include 320 multi-family dwellings; 120 independent living dwellings; up to88single-family attached dwellings with an option to replace with 144 multi-family and 64 single-family attached dwellings; and a commercial use to include a 100,000 square foot assisted living-facility.
STAFF RECOMMENDATIONS:

Staff recommends approval of PCA C-637-05.
Staff recommends approval of RZ 2017-DR-012 and the associated conceptual development plan, subject to the execution of proffers consistent with those found in Appendix 1 of the staff report.
Staff recommends approval of FDP 2017-DR-012, subject to the development conditions contained in Appendix 2 of the staff report.

At the Pomeroy public hearing, which starts about 1:34:25 in this video, most of the comments were related to the requested waiver of inter-parcel access to the church site.
This is the Aurora Station presentation made at the meeting.
Meeting Notes:

Attorney Greg Riegle presented the case for the Pomeroy Companies. Although this proposal is in the Dranesville District, Planning Commissioners John Ulfelder, Donte Tanner and Jim Hart thought it would be a good idea to get our feedback since the traffic associated with this proposal will significantly affect the northern end of the Sully District. The proposal had a mix of various housing types plus an option for some retail and office space. The main issue expressed by the Joint Committee concerned the traffic generated by the proposal as it relates to an unimproved Frying Pan Road just east and offsite of the proposal. The applicant will be coming back to our Joint March 18th meeting with updates and more information.
Floris United Methodist Church, which is located directly east of the site, asked for inter-parcel access. The Aurora Station developers have asked for a waiver so they would not be required to provide the required access. If it was provided church worshippers would exit the church using one of the Station's private streets in their development for exit. Another reason for not wanting to provide the requested inter-parcel access is their grading plans call for a 13-foot embankment on their east side, making the connection impracticable due to the elevation difference.
As a matter of county policy, inter-parcel access is usually required. The church itself got a waiver when it was built. The developer is willing to build frontage lanes on their property, or fund a light for the church.
Timing of the development after approval is one year for planning and such, then one year for construction before start of occupancy.
Due to concerns over plans for improving Frying Pan Road, we asked them to attend our March 18 meeting to present plans by the three developments (Foster's Glen, Sunrise One and Aurora Station) for improving Frying Pan Road east to Centreville Road
Proponent: Sara Mariska, Womble Bond Dickinson (US) LLP
Proposal: SP 2016-SU-058
Location: Fairfax County Tax Map Reference 34-3 ((5)) E4 (14130 Sullyfield Circle).

Exempt: Is not
Statement Acknowledged: Not Applicable
Proposal Details: A&E Entertainment LLC (the "Applicant") proposes the expansion of an existing indoor commercial recreation use (indoor miniature golf) within an existing industrial building in the Sullyfield Business Park. In 2016, the Board of Zoning Appeals established the use with approval of SP 2016-SU-058 to allow indoor mini golf for up to 70 patrons. The Applicant now proposes to expand the approximately 12,000 square foot use by 9,000 square feet into an adjacent vacant tenant space to permit 60 additional patrons for up to 130 total patrons. No external changes are proposed with this application. The Applicant looks forward to expanding its existing amusement operations and better serving the Sully District.

From the Statement of Justification:

The Applicant now proposes to expand its currently operating indoor miniature golf establishment, classified as an indoor commercial recreation use, into a neighboring tenant space on the Subject Property. The additional gross floor area is comprised of approximately 9,000 square feet of the existing industrial building (the "Expansion Space"). The Expansion Space will include amusement activities such as a laser tag area, escape rooms, and arcades. Small accessory uses, including a dining area, kitchen, and lounge will support the entire indoor miniature golf establishment. The enclosed a floorplan illustrates the proposed expansion within the existing building.
The Applicant's existing establishment has thrived and it now seeks to build upon such success through this proposed expansion. The expansion will allow the Applicant to broaden and enhance its amusement offerings. The Applicant will continue hosting birthday parties, corporate outings, and family groups from the current space, as well as the Expansion Space. The expansion will allow the Applicant to serve food and beverages to patrons and accommodate a eating area. The Applicant will comply with all Fairfax County Health Department as well as state regulations as may be applicable to food and beverage service.

Meeting Notes: The second application involved the "Monster Golf" Entertainment facility which was represented by Attorney Sara Mariska. The applicant has purchased a vacant and adjacent, former fitness center located in the Sully Field Business Park in Chantilly. The facility has more than the required parking in accordance with county requirements and will now serve wine and beer (but no liquor) at the facility. Sara answered all questions and the application was unanimously supported by the WFCCA members and unanimously "not opposed" by the Sully District Council members.
John Litzenberger asked Jim Neighbors to give a joint land-use task force update to the land-use committee meeting.
This is the presentation Jim Neighbors made at the meeting.
Meeting Notes: Long time Joint Land Use Member Jim Neighbors of Sully Station, briefed the Joint Committee on the proposed Comp Plan redo for the Sully Station Shopping area and adjacent areas. He went into great detail of the proposed changes and improvements including the concept of a "vertical" school in a former office building. He mentioned the cooperativeness of the committee members, but noted some of the local residents were quite vocal about the traffic problems in the area. We all thanked Jim for his excellent and comprehensive briefing in addition to all the extra evenings Jim put into participating in this important endeavor.
Next month's meetings will start at 7 PM in the Sully District Governmental Center Front Meeting Room, 4900 Stonecroft Boulevard, Chantilly, VA, 20151 unless otherwise noted
The next Sully District Council meeting is scheduled for Wednesday, 15 March 2019 at 7 p.m. at Chantilly High School

Membership Topic: The Sully District Council co-sponsors with Sully Supervisor Kathy Smith and Sully School Board member Tom Wilson the 2019 Sully District Budget Town Hall

Topics:
ADJOURNMENT
The meeting adjourned at approximately 8:59 p.m. Respectfully submitted,

Jeffrey M. Parnes
Land Use and Transportation Committee Chair
Sully District Council
---
Sully District Council Home Page
Sully District Council Minutes
Land Use & Transportation Committee Minutes
Data Area Transportation Association information
---
© SDC;
http://www.SullyDistrict.org webmaster2018 @ SullyDistrict.org

modified by Jeffrey M. Parnes